....more storms possible this afternoon.
It was a soggy start to the work week with heavy rain producing storms that developed around 1pm yesterday afternoon. They slowly moved NNE across northern Illinois and southern Wisconsin, dumping inches of rain.
Storms cleared the area around 9pm but then overnight, ahead of moisture and warm air advection, more storms developed dropping more rain through southern portions of the Stateline area. We can expect some dry time today, with more storms possible after about 1pm. These will form ahead of a mid-level disturbance, and will linger past sunset. The coverage of the heaviest rain will be just south of I-80 and I-88, closer to a stalled boundary. However, we will still see periods of heavy rain this afternoon.
As we've mentioned, the localized flash flooding is due to heavy rain producing thunderstorms that are very slow moving. A few components have come together to allow for this to happen.
First, a ridge situated in the southeast and extending up into the Ohio River Valley, is actually directing the flow in the atmosphere, because of this southwest flow is drawing up quite a bit of moisture and warmth, something meteorologists call warm air advection, and moisture advection, right over northern Illinois. Our dew points are again in the low 70's and the potential moisture in the atmosphere is approaching 1.5" again today, a lot like yesterday.
Our upper level winds, or jet stream winds, are also known as our steering winds. They will typically help to drive high and low pressure systems, cold fronts, and even storms. Currently our jet winds are zonal, meaning flowing from west to east. But these typically fast moving winds are actually rather weak, so instead of these storms marching quickly east, they have been very slow. When you have high amounts of moisture and heavy rain producing storms that move slowly, they are going to dump a lot of rain over certain areas of the region.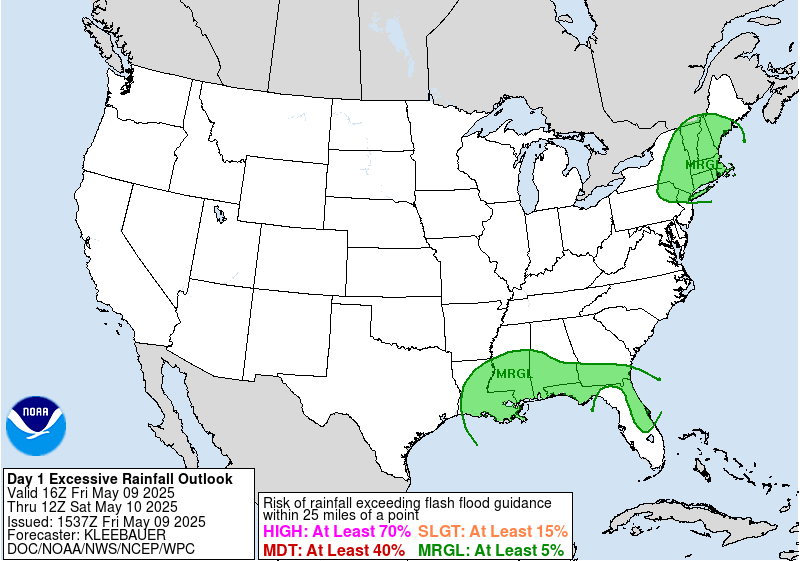 This is basically what happened yesterday, and we still have the potential this afternoon as well. The greatest coverage of heavy rain looks to be just to the south of the area, as mentioned. This area is also highlighted for excessive rainfall by the Weather Prediction Center.